Scored Survey
ProProfs allows you add scoring to a survey to convert your survey into an assessment, evaluation or lead qualification tool. With scored surveys, you can assign values to each response option selected by the survey taker. The data collected from such a survey helps you effectively measure your respondents' satisfaction and opinions.

Benefits of a scored survey:
Create customer satisfaction surveys, and follow-up with customers whose survey score represents a poor satisfaction level
Turn your survey into an online assessment with scoring done by assigning points to each response option
Conduct effective market research by turning survey responses into measurable statistical data
Let us look at a classic example of a scored survey when it is used as a customer analysis tool, popularly known as a Net Promoter Score Survey.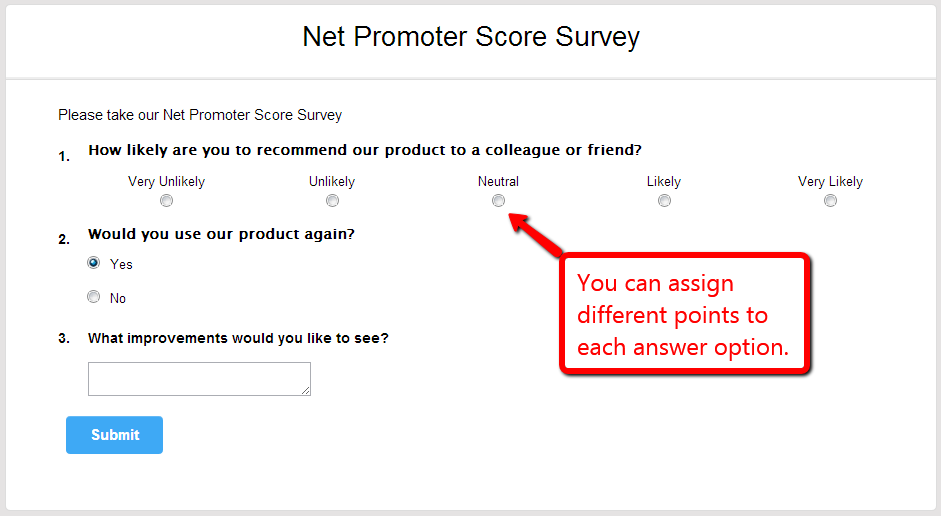 Creating a scored survey such as a Net Promoter Score Survey is simple. You take a normal survey question and assign points to the response options as shown in the example below:
Survey Question: How likely are you to recommend our product to a colleague or friend?

Survey Response Options:
Very Unlikely: -10 points
Unlikely: -05 points
Neutral: 0 points
Likely: +05 points
Very Likely: +10 points
You can now analyze your customers and categorize them as Promoters (-05 to -10), Passives (0) or Detractors (+05 to +10). Similarly, you can use scored surveys for a number of training, education or marketing purposes.
Create a scored survey now and check out the scoring method for yourself.
How to create a scored survey
Step 1: Go to "Edit Settings" page of the survey once you're done adding the questions and response options.


Step 2: Click on "Score Settings" and "Manage Point Assignment" next to the option which says "Score this survey."


Step 3: Assign points and click on Save once you're done.